Armed security officer requirements security officers who carry a gun while on the job must hold a license issued by their state. The requirements for armed security officers are different depending on where they are employe. For example, security guards working in public areas such as shopping malls do not need to be licensed. On the other hand, guards must meet age requirements and complete training before applying for a license in some states.
Before applying for a license as an armed security officer, an individual must understand their state's licensing or registration requirements. Becoming an armed security guard has some differences from becoming an unarmed security guard. An individual must be twenty-one years of age and have a high school diploma or equivalent. Submit to a background check, and undergo intensive firearms training.
Earn their federal security officer status from the Bureau of security and investigative services, and meet citizenship requirements. Job duties for armed security guards include performing searches for both people and vehicles, intervening in situations with potentially dangerous outcomes, and detaining and arresting violators. Through experience as an unarmed security guard, it is easier to become a licensed federal security officer.
What Are The Requirements For Armed Security Officers?
Working as an armed security guard is not just a job; it is a career. An armed security guard training provides the skills to protect people and property in your community or at major events. During this training, you will learn various defensive tactics that can be used to defend yourself against violence and subdue an offender. In addition to the training curriculum, you will learn about security training for armed guards.
The primary goal of the initial entry-level program is to provide the foundation of knowledge and skills required for a career in private security. The program consists of the international association of chiefs of police or approved modules on legal requirements: Officer safety and survival skills, patrol procedures, and private security operations—further, administration, communications systems/dispatching operations, and computer-based electronic security systems.
The IFPO provides three separate training and certification programs for security officers.

Individual security capabilities will be advance through the certified protection officer program.

For security managers, the security leadership and direction program

The experienced safety official schedule. Also, it is a curriculum for entry-level security officers. 
How To Get A Job As An Security Guard?
There are a few ways to become an armed security guard. It is best to apply for a job with an established security company. Most companies require individuals to have at least a high school diploma. And others require a general education development or equivalent. Armed security guards will also need additional training, which their employer may provide. 
A bachelor's degree in law enforcement, criminal justice, or police science can provide applicants with additional training and knowledge. Individuals are not traine to become armed security personnel through these training and degree programs. However, they are frequently chosen for roles.
Every state requires armed security guard training. However, the amount of hours required varies, and individuals will go via their state's program to complete this training. Armed security guard training covers keeping your firearm safe and self-defense techniques that can be use with or without a firearm. Additionally, state rules govern weapons safety, carry, and use.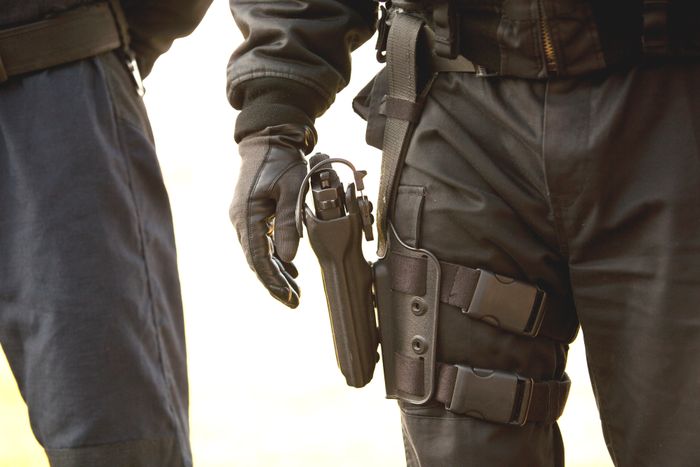 How To Obtain A License As An Armed Security Guard
After completing their training, armed security guards must apply for a license through their state's board. This process is often more rigorous than a normal security guard license. And includes a thorough criminal record and background check, drug screening, and fingerprint scan. Licensing criteria, like training, vary by state. In some states, a license to work as an armed security guard isn't enough. The guard may also be require to have a separate license that allows them to carry a firearm.
While many people might assume that an armed security guard would be a police officer or an ex-police officer, this is not always the case. An individual can become an armed security guard by completing the necessary training, receiving the correct certifications, and passing any other requirements set by the state where they will work.
Important Facts For Armed Security Officers And A Quick Overview
Armed Security Officer Requirements: To become an armed security officer, you must complete a state-approved training program and pass all required exams. You will also need to obtain a license to carry a firearm in some states. The criteria for becoming an armed security officer are summarized below.
Job Type: Armed security officer
Education: A high school diploma or equivalent is necessary, with an associate's degree recommended.
Session of training: On-the-job training, state-provided firearms instruction, and extra training are desirable.
License and certification: A license to be an armed security officer is required in some states, as is a separate license to carry a handgun.